FREE SHIPPING ON ORDERS OVER $100 in the U.S.
You can order online and have free curbside pickup
Albuquerque Is the Next Great Foodie Destination
Posted on January 23 2023, By: Steve Prickett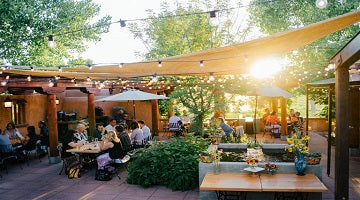 Ask most Americans what they know about Albuquerque, New Mexico, and an early memory of Bugs Bunny on Saturday morning cartoons might hazily emerge. In reality, this high desert city is one of the most overlooked gems in domestic travel, and for Angelenos, it has the added appeal of being only a 90-minute flight away. One final selling point? The food in this city is freaking amazing. 
If you're looking for the next great foodie destination in the country, look no further. From classic spots you can't miss to innovative new establishments, here's where to eat (and drink) in Albuquerque.
New Mexico Diner Culture
 There's almost always a line at Frontier Restaurant, which sits just on the edge of the University of New Mexico, but don't let that deter you. They move fast, serving up breakfast, burritos and a whole mess of New Mexican specialties from dawn until dusk, both to-go and in their cozy, retro diner space. Open from 5 a.m. to midnight every day, no matter what time your flight gets in, Frontier will have a warm burrito and a full salsa bar waiting.
Duran's Central Pharmacy is a close second when it comes to New Mexican diner food, and a winning choice for those staying on the other side of the city, closer to the historic Old Town district. Just remember, elevation can be extra dehydrating, so drink plenty of water alongside your carne adovada — and go red here, as plenty of locals swear Duran's has the best red chile in town. Plus, when you're done with your meal, you can peruse the pharmacy and gift shop for some handmade, local souvenirs — or some actual medicine, as this place is home to a working pharmacy right alongside its diner.
Cocktails With Sunsets and Speakeasies
A visit to the Apothecary Lounge located on the rooftop of Hotel Parq Central is a great way to figure out what "watermelon sky" means. During the best sunsets, the Sandia Mountains turn pink, which is where they earned the name, derived from the Spanish word for "watermelon." A mineral embedded in the granite is responsible for the color, but it's more fun to pretend the sky itself is in on the trick. The drinks are great, but it's pairing them with one of the best mountain views in the city that makes this rooftop a favorite sunset hang for residents and visitors.
Founders Speakeasy is another option for a well-made cocktail, and frequenters of Davey Wayne's or Break Room 86 in L.A. will be tickled that an unassuming liquor store downtown gives way to a basement speakeasy down a tucked-away dark staircase. All you've got to do to get in is check the bar's Instagram bio for the current password, and use it in a sentence with the employees manning the counter. Even if there's a 15- to 20-minute wait to get down into the basement, the vast menu and massive bar stocked with some rare and unique bottles makes this a must-visit.
Oh, and if you're craving a drink earlier in the day, say around happy hour, shift to another hotel hotspot: Mas Tapas y Vino at Hotel Andaluz. Their tapas are so good that ordering one or two plates might just lead to an entire dinner on the spot, and a great wine list ensures perfect pairings whether you go for bacon-wrapped dates and pork ribs, or Manchego mac and cheese and scallops.
Chef Daisy Ryan's tips for visiting this gorgeous part of Central California begin with wine and end with Steinbeck
Take a Taco Tour by Bike
This bike-friendly town offers a mix of wilderness and city life, so peddling around is the perfect way to see both. Family-owned Routes Bicycle Tours offers highly customizable bike rentals and tours that take in everything from historic neighborhoods in the city and pedestrian-friendly local farms (complete with pop-up taco shops, of course) to landmark houses from Breaking Bad and Better Call Saul. If you'd rather chart your own course, Routes can sort you out with your choice of ride: beach cruisers, mountain bikes, tandems or even electric bikes.
Don't Forget About Fine Dining
Make sure to book yourself a meal at Campo, the on-site restaurant at Los Poblanos Historic Inn & Organic Farm. The beautiful, peaceful grounds are just outside the historic downtown district and offer lodging in idyllic bungalow rooms set against a backdrop of lavender fields. Even if you don't end up bunking at this bucolic property, plan a visit to their dining room. Consistently ranked as one of the best restaurants in New Mexico by the likes of Food & Wine and Bon Appetit, even the most meticulous foodie will fall in love with the simple, farm-fresh fare served during brunch and dinner here. Pop into the Farm Shop after your meal to browse through lavender-based wares like soaps, balms, lotions and decor, and get a very early start on your Christmas and birthday shopping.
For more fine-dining options, Farm & Table is the perfect place to get veggie-forward, seasonal dishes, and they offer a fully coursed out meal with elegant service that's completed by a substantial bottle list. Closer to the town center, Level 5, the rooftop restaurant at Hotel Chaco, is the other best spot for mountain views as the sun goes down, helping visitors understand why this state earned the nickname "the Land of Enchantment." Everything on the menu here is great, but since you're in New Mexico, get some buffalo short ribs and a strong glass of red while basking in golden hour.
The Food Hall:
Sawmill Market
If you're staying at one of the two main properties in town — Hotel Albuquerque and Hotel Chaco — then you're perfectly positioned to go explore the city's promising new food hall. By only allowing local vendors into the rustic, warehouse-style space, Sawmill Market manages to feel like an expertly curated tasting menu of the best the city has to offer. There's everything from waffles and soft serve to Vietnamese snacks, a whole back corner of Mexican food, and even fresh-made pasta. Just a block or two from either hotel, this market is great for breakfast, or a quick, air-conditioned snack in the middle of the day. There's also a great spot to grab a beer on-site, Paxton's Taproom, as they feature a lineup of 30 local beers. Turn it into a mini bar crawl by including nearby breweries Bow & Arrow and Gravity Bound. If they have the Fruity Pebbles sour on draft at the latter, it's a must-try. 
Green Chile Isn't the Only Specialty in Town
Don't be surprised if you see a little burger joint named Blake's Lotaburger all over town. While local fast food isn't always the move, it's worth popping into one of the many locations to try the green chile cheeseburger. They claim they were the first ones to put green chile on a cheeseburger; whether or not that's true, Blake's still does it best. Wash that hint of heat down with a chocolate shake that rivals a Frosty at Wendy's. Sacrilege? Maybe, but it's kind of the perfect pairing for when the heat begins to rise in the desert. If you get too hot exploring town, duck into Slow Burn, a local coffee shop with killer cold brew, and coffee so fresh they just might be roasting it when you stop by.
Another local standout is Rumor Pizza, a fairly new joint that does just about the best takeout pizza you'll have in town. Their New York-style pies come in one size and are available for pre-order because of how often the two-man kitchen sells out of them. Go with the white pie for smooth and salty poolside snacks, or the classic pepperoni to tide you over between meals. If you do want to try a green chile/pepperoni combo, Dion's is your spot — order The 505, the name a shout-out to the ABQ area code. There's even a winery in town that serves green chile wine — that's how popular the stuff is.
On a much sweeter note, one of the most enjoyable experiences in town is a chocolate tour and tasting at Eldora Chocolate. The small shop and factory is a total labor of love, and a great activity for sober folks who like the attention to detail that brewery and vineyard culture breed, but have no interest in alcohol. The owner, Steve Prickett, takes otherworldly pride in sharing his knowledge of bean-to-bar chocolate, the difference between a chocolatier and a chocolate maker (it's substantial), and what flavors come through in chocolate made from different regions. This tour was one of the highlights of my entire trip, so if it appeals to you at all, do not hesitate to book one. And just try to walk out without grabbing a few bars for future, uh, tastings.