FREE SHIPPING ON ORDERS OVER $100 in the U.S.
You can order online and have free curbside pickup
Eldora Chocolate Featured on KOB
Posted on June 15 2018, By: Jamie Rushad Gros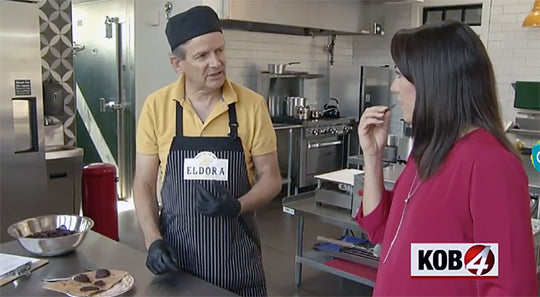 From KOB
"About four years ago, his wife signed them up for a chocolate plantation tour in Hawaii. Little did she know, it would be the end of retirement as they knew it.
"After about 50 batches I said, you know, 'this is a hobby, but I could make a business out of this if I wanted to,'" said Prickett.  
That hobby is now Eldora Chocolate. The business opened June 6th on Edith just south of Paseo Del Norte. Prickett is dedicated to making chocolate using all organic, natural and fair trade ingredients.
"We pay above market price to support the farmers," said Prickett.
Their beans come from all over the world, and some of their spices come from New Mexico.
"We use Chimayo chile," said Prickett.
They make energy bars, truffles, and even iced chocolate for these hot summer days. Their menu isn't permanent. They want to hear from customers who have ideas for new flavors for them to try out.
A visit to Eldora Chocolate is an experience similar to wine tasting, and a lesson in a process similar to coffee roasting."