FREE SHIPPING ON ORDERS OVER $100 in the U.S.
You can order online and have free curbside pickup
Albuquerque Journal - Steve Prickett
Posted on August 25 2023, By: Steve Prickett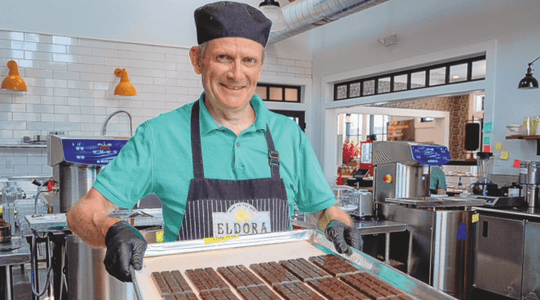 We are absolutely having a ball. Steve Prickett, a former wealth management adviser, is talking about Eldora Chocolate, the business he created in 2018 rather than retiring because he loves all things cacao bean.
"This is failed retirement," Prickett says. "I didn't need to do this, but it was a challenge and I wanted to make really fine chocolate. I have wonderful employees. It's a happy business."
Prickett is an evangelist for the practice of "bean to bar" production. He and his four employees purchase beans from Central America, Africa and other equatorial countries and use a trial-and-error process they developed to make truffles, a variety of bars, intense and condensed sipping chocolate and chocolate-based beauty products.
All told, he's used beans from 35 countries and always has products from at least five origins available at his North Valley store. Eldora, located at 8114 Edith NE, won a Top 10 award this year from USA Today's Best Reader's Choice for chocolate shops. Last year, he won a silver and bronze from the Academy of Chocolate.
"We haven't won a gold yet, but we're working on it."
Part of his success, Prickett says, is knowing who his customers are. The legacy of chocolate in the United States, he says, stems from the Hershey's milk chocolate distributed to GIs during World War II.
Since then, the market has been mostly for what Prickett calls "industrialized" rather than "fine" chocolate, with most U.S. consumers unaccustomed to eating bars that are more dense and intensely flavored.
But Prickett's shop is finding its audience. "When we opened, nine out of 10 people who walked through the door were milk chocolate eaters," he says. "They weren't fine chocolate eaters. And now it's closer to seven out of 10 fine chocolate eaters walking through the door. They're starting to recognize what we are and what we're doing. The goal has not been to be the biggest chocolate shop in the United States or in the world. It was always to be the best."
What's been the most difficult thing about starting Eldora?
A few things were frustrating. One was I felt the business would develop faster. Of course, every entrepreneur is impatient that their business doesn't grow (faster). But we were in it for the long haul. We modified our business plan as we saw what we needed to do. The second thing was making the chocolate from bean to the bar. When I was making it at home, it was still very frustrating. My first eight batches were fails. The chocolate actually tasted good, but it didn't look good. In fact, six months into it, I hired a consultant out of Seattle who had been in the business for 35 years to help. So we were able to quickly accelerate the quality of what we were doing.
Do you have a favorite kind of chocolate?
I love dark chocolate — 75% or higher, I love it. We talk in our tasting classes about developing your chocolate personality. We coined that here. But I like all kinds, as long as it's prepared well. And I can tell when it's off just a little bit, whether it's my chocolate or somebody else's.
What's a mistake you've made?
There's lots of mistakes. There's this fine line between bravado — do it my way, this is going to work — and it's just not working any more. Every entrepreneur goes through that. It just depends on how far out you go on that catwalk before you pull back. One of the things we did, we had our drinking chocolate and we made it with water instead of oat milk or dairy milk. We were quite pleased. We went up to Toronto, saw they were doing it there and brought it into the marketplace here. But it was not as well-received. The community wasn't ready for just drinking chocolate with water and so we said, 'We've got to switch this.'
What prompted you to start your own business when you could have retired?
I'm an entrepreneur. When I was growing up, I had a paper route and sold Christmas cards. I've always had an entrepreneurial spirit. When I was working for Merrill Lynch, you know it's a big company and there's a big bureaucracy. So to step away from that and come here, it's a short decision for me. There is no bureaucracy here. Every employee knows, they have a problem, they come right to me and we solve it right there. There's no, 'I've got to take it to a committee' and all that. It's very invigorating to be able to do that. The essence of entrepreneurship is building something from the ground up that wasn't here. I did that. I didn't buy a business and step into it like a hermit crab.
What do you do in your free time?
There are 58 14,000-foot peaks in Colorado. I've done 27 of them. I love to be outdoors. I like fishing.
What has made you successful?
I want to make lots of mistakes. Let's get through them quickly. That's going to bring us closer to success. Giving your employees confidence that they can make mistakes allows them to be more assertive and invested in the business. I see a lot of businesses, you made a mistake and you get fined and you get written up. I want to get into your mind and say, 'What happened here? Maybe you were thinking of something great. Let's do it again and see if we can execute it this way. Maybe we can turn a mistake into a beautiful idea.'
What are your best sellers?
The 70% Zesty Mango Piñon bar, 70% Vanilla Pink Salt bar, 70% Tart Cherry bar, 50% Dark Milk with Almonds.
Do you ever get sick of chocolate?
Never.