FREE SHIPPING ON ORDERS OVER $100 in the U.S.
You can order online and have free curbside pickup
Eldora Chocolate Is Raising The Bar in Albuquerque
Posted on May 19 2023, By: Steve Prickett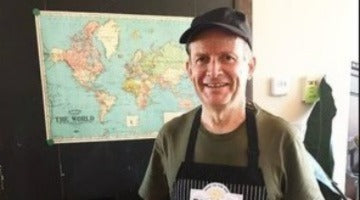 Eldora Chocolate founder Steve Prickett is making Albuquerque even more of a chocolate destination, not only as the first bean to bar producer, but thanks to full transparency in sourcing, production and hospitality.
GREAT CHOCOLATE STARTS WITH GREAT SOURCING
For Prickett making the perfect bar of chocolate starts with the beans themselves. He carefully considers the terroir associated with each variety of cacao bean that he sources. Optimal fermenting and drying processes for the beans are other primary considerations, to facilitate crafting the best possible chocolate. Prickett commits to 'finding, real ingredients that retain healthy benefits, no matter the time or cost.'
"I start with a sample of cacao beans from a supplier and roast and conch it into chocolate," he says. "If the flavor and texture is what I'm looking for then I request more information from the supplier like, "Do they practice organic techniques? Do they not use pesticides and herbicides?
"If I buy from a co-op or an entity that then buys from or works with a group of farmers, I ask for a transparency report to determine, among other things, if the farmer is getting paid fairly." Read more about Fair Trade, Direct Trade and Transparent Trade.
Prickett does not dictate optimal cacao fermentation and drying processes among his suppliers. Rather, he screens this out by taking each individual sample, roasting it, conching, and making a sample chocolate. He then assesses a variety of characteristics in each resulting chocolate sample. "Typically, I'm looking for fruity notes, chocolatey, fudgy notes, complex notes, and comfortable, easy eating notes. I always have [at least] five different single origins for sale. Right now, I have nine single origins for sampling and tasting."
KEEPING IT FRESH
The company provides a 'best eaten by' date for each edible item it sells and discards finished products at expiration-as well as products whose flavor profile has diminished. 
"There are two different time assessments I use," Prickett says. "One is from the day I receive the raw cacao beans from a supplier. The second is from the day I turn the raw beans into finished chocolate.
"For item one the rule of thumb is two years. However, my plant is very modern and I re-box 70 kilogram bags of beans into 20-pound sealed buckets, plus the room is temperature-controlled, between 68-72 degrees F. I've tested this and found that I can store raw beans for up to four years.
"For item two, I set a 'best by' date of one year from the make date of my single origin bars. For inclusion bars I set a six month best by date. [But], bottom line, we taste the bars to see if flavor is diminished."
TOTAL TRANSPARENCY
Prickett's commitment to transparency extends to how his chocolate is made. Eldora Craft Chocolate opened in Albuquerque's north valley on a half-acre lot in June 2018. "My wife, who is an interior designer, [planned] our 2,000 square foot building to have the look of a 'modern barn,' Prickett says. "Inside, she used color pops, shiplap, and open spaces that provide complete transparency as we work to make chocolate.It's very welcoming and my staff is friendly. We like to say we treat all customers like humans, not algorithms. And all customers are offered as many free samples of any of our bars as they wish." 
By volume, truffles are a top seller for the company. Most popular truffle flavors include olive oil blood orange, bourbon, caramel, and coconut raspberry (vegan). Seasonal truffles always sell well too. 
Eldora Craft Chocolate bars run second in volume of sales, and especially raspberry, vanilla pink salt, mole mole, or 70% single origin varieties. By dollar amount, Prickett's inclusion/flavored bars are best sellers, as are single origin bars, truffles and drinking chocolate. 
Inside this multi-award-winning business's retail space, visitors can also sample delectable treats such as brownies or Banana Coconut Bonbons. Superfood creamers, and chocolate-infused body care products are other offerings.
TASTES & TOURS
Tours at Eldora Craft Chocolate, paired with tastings, are also quite rewarding, says Prickett. Although the company does not operate in a retail district, Prickett says it has quickly become a destination. "This city is not really known for fine chocolate So we're in the front end of a trend,"
For an endeavor focused on quality and doing good, it should come as no surprise that Eldora donates a percentage of company revenue to several not-for-profits. They include Kiva (for projects focused on cacao and cacao products), Heirloom Cacao Preservation Fund, and The Rainforest Project.