FREE SHIPPING ON ORDERS OVER $100 in the U.S.
You can order online and have free curbside pickup
Edible Magazine Features Eldora Chocolate
Posted on August 23 2018, By: Jamie Rushad Gros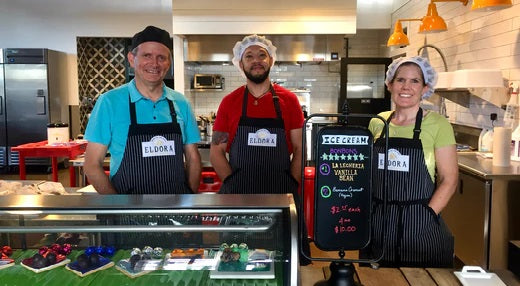 When we read Edible Magazine's Sophie Putka's article on Eldora, we couldn't help but feel humbled and thankful. Simply stated, Sophia's writing captured exactly what we set out for when creating Eldora. 
To Sophie Putka, and Edible Magazine, we thank you.
Excerpt from the Edible article...
"
Truffles sit clustered in little groups behind glass, wrapped in brightly colored foil, gleaming like jewels in a display case. To the right are crisply wrapped bars, neatly stacked by origin and flavoring. A look over past the counter reveals high ceilings, bright white walls and spotless steel appliances. It's clear 
Eldora Chocolate is a brand new business. That is, until Steve Prickett, master chocolate maker and founder, begins talking about it."