FREE SHIPPING ON ORDERS OVER $100 in the U.S.
You can order online and have free curbside pickup
Eldora Chocolate Featured by the Albuquerque Alibi
Posted on July 12 2018, By: Jamie Rushad Gros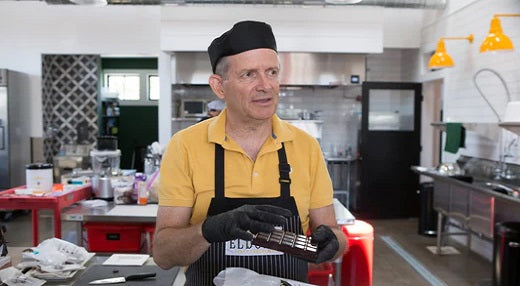 A big thanks to the Albuquerque Alibi for interviewing Eldora. Here's a bit of the wonderful article.
"You don't expect to find a craft chocolaterie up in Los Ranchos de Albuquerque. The nearest commercial neighbors are Plant World Nursery and the General Mills plant—along with lots and lots of dusty open lots. The small building that houses 
Eldora Craft Chocolate
even looks like a barn—albeit a very modern and clean barn.
But once you walk inside, you realize you've just arrived somewhere very special. Albuquerque's first and only bean-to-bar chocolaterie smells heavenly inside and looks even better. The wallpaper sports an intricate design of cacao trees and the many large windows fill the space with sunlight. From the counter—where you'll see a glass display filled with foil-wrapped truffles and bars—you can see into the spacious, high-ceilinged kitchen that gleams with stainless steel. There's a Scandinavian look to the space with its open layout and beautifully simple design."